Armenian 78s
By: Amir Mansour
Armenian recordings for Gramophone Company started in Tbilisi (Tiflis) in 1902 and There are recordings of 1902/3 (GC-14675, GC-14613, GC-18306, GC2-12519, GC2-12548), 1905 (GC4-12431, GC4-12459), 1908 (GC6-12796, GC6-12801) and 1910 (GC11-12073, GC11-12074) to 1915 for Gramophone Company on their original labels for different size of the discs. (The Concert Record "Gramophone" label belongs to the second or third releases of recordings between 1912 and 1915 manufactured in Riga – Russia)
7" one sided Gramophone Record 13603 is one of the rarest Armenian recordings
Pathe and Odeon have recordings in Tbilisi (Tiflis) later and according to their style of selecting the songs and artists, there must be very early Armenian recordings on mentioned labels.
Armenian "SOHAG" label double sided records were produced in USA by "Sarafian Sohag recording Co." probably between 1907 and 1915. Some of these records had colored wax and picture labels and were sold for 1 US$. There are some pieces on Sohag records by a Tar player is called "G. Shahbaronian". (See labels: 1 – 2)
There must be a number of Armenian recordings of 1914 in Tbilisi on Germany produced "Monarch - Record" label, double sided, low quality discs (98893, 98894).
Between Two World Wars, many Armenian recordings were taken in Tehran - Iran by different companies starting by His Master's Voice in 1926 (AX399a, AX399b, AX400a, AX400b) and songs by Sato (Pari) Aghababov who has recorded 5 records or 10 sides in Armenian beside some recordings in Persian (AX401a, Ax407a). She had also recorded some operettas in Persian for Odeon company in their first recording session in Tehran in 1927 (xPe13, xPe19).
We can find a list of Armenian recordings by HMV in Iran between 1926 and 1929 in an Index published in Persian and Armenian in 1931 containing the lyrics and some photos of the artists and their names like Gasparian and Stepanian. "Cacausian Band" and its artists like Haig (Kamanche) and Sasha (Tar) were participated in all HMV and other companies recording sessions in Tehran up to 1933.
Columbia Graphophone Co. also recorded in 1928 some Armenian choral songs of 35 voices (15073b) in Tehran beside Persian songs by Armenian vocalists Miss Siranoosh and her sisters.
In 1933, there are more Persian recordings for Columbia by Armenian singers like Miss Loretta Hairapetian who her father "Hambartzoum" was the representative of HMV in Tehran from 1908 and before it was the cooperator of recording session of Iranian artists in Paris in 1907 for Persian Khorshid label records. Also some Armenian recordings were taken in USA between late 20's to 50's or some reproductions of Armenian recordings mainly for the market inside USA as the below labels (Columbia, Istanbul & . . . ) and there is a list of Armenian records in USA from page 2599 to 2519 of "Ethnic Music on Records, Vol: 5":
There are other Armenian recordings on US made Columbia like Zabella Panosian on E-3504 and Shahmouradian on 28019F) and England made records by Garabet Marjanian (col 11708) and others (col 13228).
An Armenian female Pianist "Catherine A. Setkhanian" recorded 3 solo piano records in Mahour, Bayat Shiraz and Bayat Esfahan for Polyphon in Tehran in 1927 (V 41140, V 41141). Other Polyphon recordings in Tehran in 1929 include some Armenian recordings by Armenian kamancheh player "Haig" and his Caucasian Band (V 41535).
A tar solo recording by Vartan Gazarian (Bayat Shiraz / Mahour X.78.085) for Pathe in Tehran in 1928 is reported.
Baidaphon Company has recorded two times in Tehran probably in 1930 and 1932 containing some Armenian recordings in each session. B 090000 series were released on Baidaphon label and B 092000 series of recordings for Baidaphon were transferred to Parlophon label after Carl Lindstrom bought its non-Arabic Middle Eastern recordings. There are 12 sides of recordings by Madame Gasparian on Baidaphon B 090341/B 090351 records (B 090344, B 090347) and 6 sides B 090390/B 090395 by Miss Siranoosh Georgian. Also there are recordings by Madame Aghababov (B 092409) and Madame Araxia Assatourian (B 092251) on Parlophon label. There must be a considerable number of Armenian recordings on Baidaphon recorded in Lebanon.
There are several Armenian songs recorded and produced in India on His Master's Voice label circa 1937.
Between Persian recordings for Syrian labels "SODWA" of 1936 and 1939, some famous Armenian artists like Madam Aghababov, Haig and Ashud have performed some pieces like Sayat Nova by Ashud Arustamian (sod2877). There are some Iraqi "Neayem Records" recorded in 1939 in Baghdad by Haig and his orchestra (Neayem Records 216 – Neayem Records 223).
In early 50's some Armenian 78s released on Iranian local labels like Shaherzad (F3 – F4).
The private picture label "Margosian's Records" 10" & 12" records (Margosian 37a, Margosian 37b) and Hovsep Shamlian (Hovsep Shamlian 1001) picture label and Hollywood Oriental Record (Jc103) were released in USA in early 20's.
Many Armenian recordings were taken for different labels of Soviet Union like USSR and CCCP up to 60's.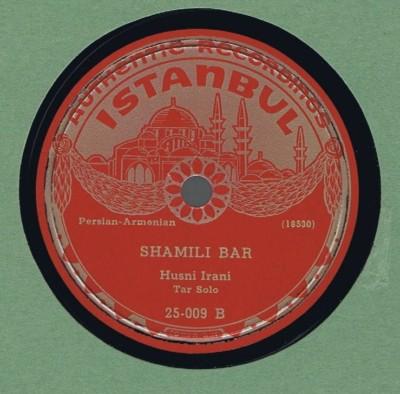 Last updated in October 2012